THE HISTORY OF THUNDER NICOTINE POUCHES
The strong THUNDER Legacy was born in 2013 and was the first traditional chew bag with the characteristic THUNDER frosted flavour. It quickly came to dominate and set the pace, quality and strength for the entire chew bag market.
In 2020 the next generation THUNDER products were launched, the tobacco and smoke-free nicotine pouches. The core virtues of THUNDER - fairness and strength - haven't changed a bit.
Always strong and to the point without excuses. The THUNDER range offers everything from blazing frosted mint to fruity Citrus. All the products are smoke-free and tobacco-free nicotine pouches.
JUST THUNDER!
THUNDER nicotine pouches are strong, ambitious, reliable and expects the same from you.
That is why you will find impactful strengths and flavors in the THUNDER range. THUNDER seeks to live life by exploring and competing with an attitude of power and fairness.
HOW TO USE A NICOTINE POUCH
Break the perforation on the side label and open the main lid
Place the nicotine pouch under your upper lip
Use the pouch for 5-10 minutes and up to 30 minutes
Discard the used nicotine pouch in the waste compartment after use
FULLY RECYCLABLE CANS
THUNDER is acknowledging the force of nature, therefore all products come in a recyclable can.
We all have a responsibility to do our part in sustaining nature and climate on our planet.​ We encourage all our consumers to empty the THUNDER can by disposing used pouches in the garbage bin and recycling the cans in a responsible way.
The cans and labels are created using PP (Polypropylen) plastic and should be discarded as plastic.​
PRODUCT SAFTEY
For recreational use.
Not for persons under 18 years.
Not recommended during pregnancy or nursing or for people with a history of cardiovascular disease.
Contains nicotine which is a highly addictive substance.
For existing nicotine users.
See product information for nicotine content.
This product contains nicotine which is a highly addictive substance
Swedish Match North Europe AB, 118 85 Stockholm, Sverige, Orgnr: 556571-6924, Momsregnr: SE55657169240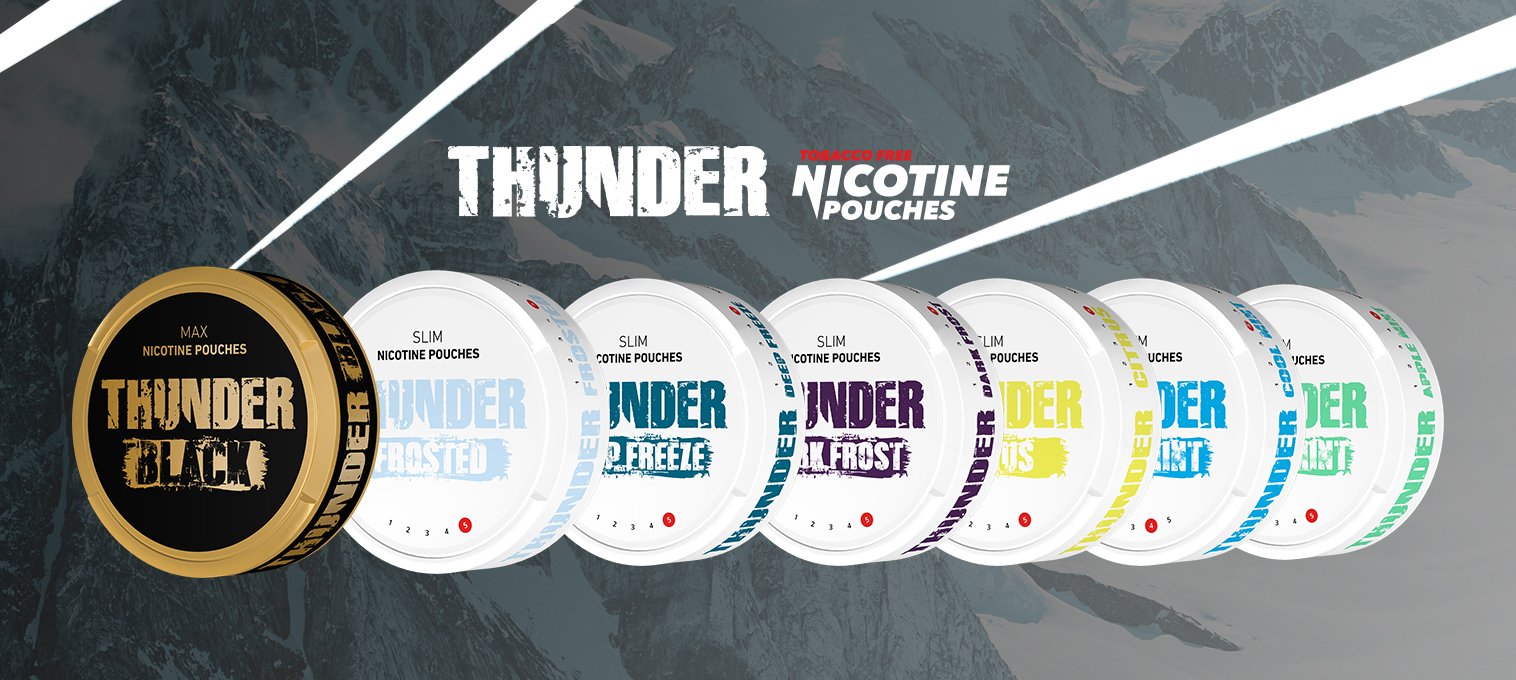 Are you over 18 years old?
Please enter your date of birth
I'm not over 18 years old
This website contains information about tobacco and nicotine products and is intended for visitors living aboe the age of 18. You therefore need to verify your age here. Our products are not intended for sale or use by persons under 18 years of age. The use of our products is not risk-free as they contain nicotine, which is a highly addictive substance. Only for adult tobacco and nicotine users over 18 years.